This page will morph once you subscribe and log-in
You need a subscription to access this page.
This page can only be accessed by subscribers to the Body Cello (includes Chant Circle) and higher tiers. Subscribe now to get access.
Greetings,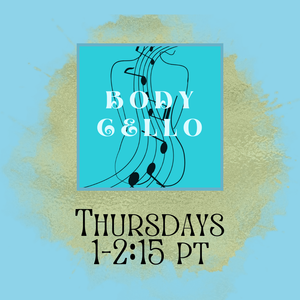 A Body Cello Subscription includes...
Weekly Body Cello Classes Online ($60 value)
Access to the On-Demand Library of Body Cello Classes ($100+ value)
BONUS: Monthly Online Concert ($15 value) 
That's over $175... all for just $20/month!
About Body Cello: Each week, we will come together for this gentle somatic practice that merges sound, movement and breath. It is designed to reduce stress and overwhelm, calm the mind and nervous system, and allow stuck energy (dis-ease) to regain a healthy flow. Ever been to a sound bath? That is what you will be doing to yourself--no equipment necessary! Please note: if life (or wifi) does not permit me to get online one week, you will receive a new recorded class for your practice. 
About Mantras & Medicine Music Concert: On the first Wednesday on each month, we will gather online in community to sing our hearts open together. 
As a subscriber, you have access to the entire library of past Body Cello Classes. If you can't make it live, you can practice in your own time--anytime!
I look forward to making sound with you!
Love,
Porter
P.S. IMPORTANT NOTE: Once you "subscribe," you will receive an email that asks you to confirm your subscription to my mailing list. Please click "CONFIRM" so you can complete the subscription process.