Yoga Journal Magazine Review
Published in December 2013's Issue of Yoga Journal Magazine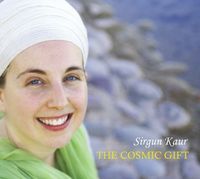 Spirited Away: 
The Cosmic Gift | Sirgun Kaur
Self-released

Singer-songwriter and Kundalini Yoga teacher Sirgun Kaur's first solo kirtan album, The Cosmic Gift, inspires the spirits with its soaring chants. The album features a mix of English lyrics, kirtan mantras, and shabads (Sikh hymns) with a rich instrumental accompaniment that includes violin, acoustic guitar and drums.

There's something deeply moving about Kaur's strong yet tender voice in songs like "Amen"—a glorious, original hymn that features yogic lyrics and a swelling female chorus—and "Mera Man Lochai"—a shabad that sounds like a gentle love song.

Some chants and hymns are hundreds of years old, and along with Kaur's thoughtful English lyrics, they express the love and longing for the divine. The songs are imbued with purity of heart that's so alluring you may want to keep this album on repeat for days and weeks to come.